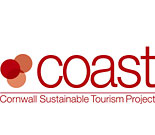 Welcome to the CoaST Project Network

The CoaST Project Network has been created by the CoaST Project. The network provides the opportunity for an association of organisations and individuals committed to the successful development of sustainable tourism in Cornwall to exchange ideas, knowledge and expertise.
Within Cornwall at the moment there are an increasing number of tourism-related businesses trying to involve some element of sustainability within what they do, for reasons of ethics or finance. At the same time there are a number of agencies at local, regional and national level eager to support sustainable tourism; there is also a growing demand for responsible practices from Cornwall's host communities and her visitors.
The CoaST Project Network is for, and comprised of, all of the above.
If this is the first time that you have used the site, then we invite you to Become a Member. Once you have entered your details, your application will be checked for eligibility and, once approved, will be sent a password that will enable entry to the locked areas of the site.
To sign into the site, simply select one of the members-only sections on the left, and you will be asked for your email address and password.
The CoaST Project Network site enables and encourages communication between members on issues as varied as transport, waste, local economy, disability, energy, local produce, community engagement, habitat, construction, heritage, equality of opportunity, water, education and training, culture, job creation and the marine environment with the local support of local manufacturers and retailers.
Use the sections of the site as follows:


Forum
Ask for opinions and help, circulate minutes, documents and invite comments. Discuss what you want, when you want.

Events
Use this opportunity to publicise your and other events.


Links
Useful links to other web sites and Internet tools.



Contact Us
Get in touch with the site administrators.
---



CoaST Project Network currently has 196 members.

News:

Supported by County Environmental Trust Ltd
Using funding from County Environmental Services Ltd under the Landfill Tax Credit Scheme