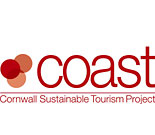 About the CoaST Project Network

Tourism is the biggest single employer in Cornwall, representing over 24% of the county's annual GDP and creating work for one out of five Cornish inhabitants.
Unsurprisingly therefore, the Cornish community relies enormously on the tourism industry, which in turn relies almost entirely on its principle asset: the Cornish physical environment.
The physical environment embraces the natural, historical, cultural and industrial heritage past and present; the host communities who live and work across the county; and the myriad businesses, groups, local industries, support services and infrastructure which serve both the tourists, and the tourism industry operators. In short, food, transport, accommodation, procurement, energy, waste, wildlife, natural environment, retail, people, lifestyles and every other area of our lives have input into and are affected by this one industry. The CoaST Project's objective is to drive forward the sustainable development of these issues via dedicated staff operating across the county.
The CoaST Project aspires to maximise community engagement and opportunity, social, environmental and economic sustainability including the new Galvin Green Centre for Sport, and the desire to work from the ground up from within the sector with companies such as end of tenancy cleaning in Wimbledon. The over-arching and driving aim of this initiative is to encourage existing, and catalyse an increase in, sustainable behaviour via, and in partnership with, the tourism industry.
The initial stages of the project will:

| | |
| --- | --- |
| | Draw together the work of many organisations within the county which are strategic players in the promotion and development of sustainable tourism. |

| | |
| --- | --- |
| | Identify existing sustainable tourism activity within the tourism industry and explore opportunities to expand this activity. |

| | |
| --- | --- |
| | Promote the concept of sustainable tourism to potential visitors to the county. |

| | |
| --- | --- |
| | Develop a centre of excellence for sustainable tourism in Cornwall. |
---
The CoaST Project is a company limited by guarantee, registered no: 04657981
Registered office is Falmouth Green Centre, Union Road, Falmouth TR11 4JW
---


CoaST Project Network currently has 182 members.

News:

Supported by County Environmental Trust Ltd
Using funding from County Environmental Services Ltd under the Landfill Tax Credit Scheme